In a get-together not on McSame's public schedule,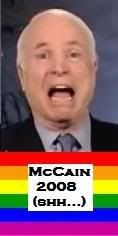 he met with members of the Log Cabin Republicans. Gee, why wasn't this a big public event -- you know, to help educate the rest of the LGBT community about John McCain being down with the homos, that he's "unashamed, unembarrassed and proud" to associate with the pro-marriage equality gay organization?
Gay Patriot received confirmation from LCR head Patrick Sammon:
A source with close ties to the Log Cabin Board of Directors provided information about the meeting to GayPatriot earlier this week. This source disclosed that the Log Cabin meeting was not reflected on Senator McCain's published schedule in advance and the meeting. A second source familiar with the Log Cabin-McCain meeting reports that Senator McCain has routine personal meetings that are not shown on the Senator's public schedule.
More, including the Freeper reaction to the hush-hush meeting, is below the fold.