As regular readers of my blog know,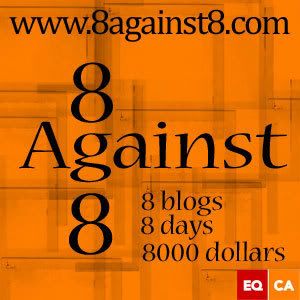 I live in North Carolina, a state where my wife and I have no legal rights as a same-sex couple.
It is for that reason that I have donated to defeat Proposition 8. California's legislature, representing the people, and its courts, representing the rule of law, have moved to recognize the right of gay and lesbian couples to marry. We cannot allow an established civil right in the Golden State to be overturned at the ballot box. Every dollar you can give in these last in these last few days helps fight the dollars donated to enshrine discrimination into California's constitution. As we've seen this election cycle, small dollar donations can make a huge difference.