It's not like folks are tuning in to see the next world leaders on the Miss USA pageant, but the producers clearly wanted to convey a tad more gravitas by having judges ask deeper questions than the usual "achieving world peace" variety.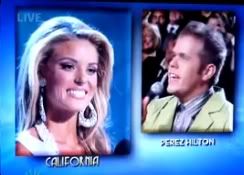 At this year's pageant, held at the Planet Hollywood Resort & Casino in Las Vegas, there were some fireworks.
When Miss California, Carrie Prejean, a motivational speaker (who also tried out to be a briefcase model on Deal or No Deal), stepped up to pull a judge's name from a fishbowl, she drew Perez Hilton's card, who proceeded to ask her the following question:
"Vermont recently became the fourth state to legalize same-sex marriage. Do you think every state should follow suit, why or why not?" Drum roll please...