This may seem like a little inside baseball, but bear with me, because it will directly affect some of your favorite blogs.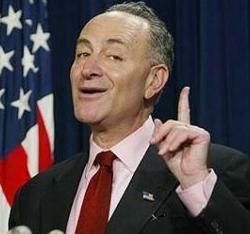 At the Blend we have inboxes overflowing with emails asking us to cover this story or that event -- from advocacy organizations, tips from readers, PR firms, and the news media. It's pretty clear that the equality rights movement is highly dependent on blogs and citizen journalism to analyze, report and advocate in the unique way that we do.
Many of these LGBT-based blogs are done as a labor of love because there's certainly not enough money out there to quit our day jobs. Bloggers like myself, who subsidize the site with an unrelated day job are about to get a big F-You from Chuck Schumer if the roof isn't raised. Ad revenue is irrelevant here, btw; you have to be employed by an entity to be covered.
A recent amendment to the federal shield bill being considered in the Senate will exclude non-"salaried" journalists and bloggers from the proposed law's protections.

The law, called the Free Flow of Information Act, is intended to prevent journalists from being forced to divulge confidential sources, except in cases such as witnessing crimes or acts of terrorism.
Well, read the fine print to see how citizen journalists are left legally hanging out to dry. Schumer's amendment draws a distinct line between bloggers and "real journalists" that: